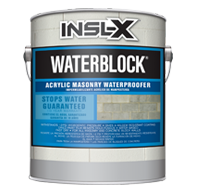 WaterBlock®
AMW-1000
WaterBlock acrylic masonry waterproofer is designed to seal interior and exterior masonry surfaces such as basement walls, foundations, and retaining walls. WaterBlock is alkali resistant and provides positive sealing and waterproofing over bare concrete block, brick, stucco or tilt-up concrete walls.
Seals vertical masonry surfaces
Withstands up to 12 psi hydrostatic pressure (when used properly)
Provides a mold and mildew resistant coating
Alkali resistant
Available Sheens: Flat
Available Colors: White
Cleanup: Warm soapy water
Resin Type: Latex
Recommended Use: Interior or exterior
MPI Rating: N/A
VOC Level: ≤ 150 g/L
Check with your local INSL-X DEALER for product availability.