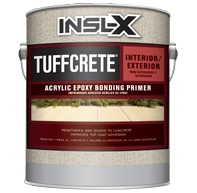 TuffCrete® Acrylic Epoxy Bonding Primer
FLB-100
TuffCrete Acrylic Epoxy Bonding Primer is a specially engineered acrylic-epoxy sealer for masonry floors, designed to lock down latent residue on masonry surfaces and provide enhanced adhesion and bonding of finish coats. Ideal for application to garage floors and weathered exterior masonry walkways and patio surfaces.
Clear sealer formulated for masonry floors
Ensures better adhesion and bonding
Locks down latent residue
Waterborne acrylic formula
Available Sheens: Primer
Available Colors: Clear
Cleanup: Warm soapy water
Resin Type: Acrylic-Epoxy
Recommended Use: Interior or exterior
MPI Rating: N/A
VOC Level: < 100 g/L
Check with your local INSL-X DEALER for product availability.