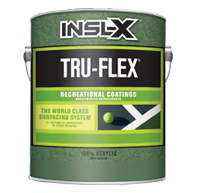 Tru-flex® Smooth Colored Finish Coat
TRC-08X
Smooth Colored Finish Coat is a high performance 100% acrylic emulsion coating, highly pigmented with prime color and reinforcing pigments that will provide a long lasting finish for tennis and athletic courts. Smooth Finish Coat protects asphalt from the sun's UV rays to provide unsurpassed durability.
High performance acrylic emulsion coating
For use on tennis and other athletic courts.
Pigmented with prime color for long lasting color retention
Available Sheens: Flat
Available Colors: Standard Green, Dark Green, Red, Blue
Cleanup: Soap and water
Resin Type: Acrylic
Recommended Use: Interior or exterior
MPI Rating: N/A
Check with your local INSL-X DEALER for product availability.