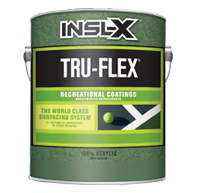 Tru-flex® Patch N Level
TRC-035
Patch N Level is a ready to use, non-shrinking, non-cracking patching compound for depressions in tennis courts. Patch N Level is recommended for smoothing and leveling small areas 1-2 foot in diameter.
Flexible film is not affected by heat or cold
Film possesses breathing ability enabling normal moisture to pass through as vapor
Non-shrinking patching compound for smoothing small areas.
Available Sheens: Flat
Available Colors: Neutral
Cleanup: Water
Resin Type: Acrylic
Recommended Use: Interior or exterior
MPI Rating: N/A
Check with your local INSL-X DEALER for product availability.