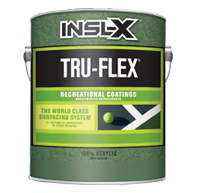 Tru-flex® Neutral Filler Coat
TRC-040
Filler Coat consists of 100% acrylic emulsions, special reinforcing pigments and special size pure silica sand that provides a uniform and controlled texture. Filler Coat protects asphalt courts from the ultra-violet rays of the sun.
Dries rapidly and allows moisture vapor to pass through the dried film
Provides a uniform and controlled texture
Use over painted or unpainted asphalt and concrete tennis court surfaces and other play areas.
Available Sheens: N/A
Available Colors: Neutral
Cleanup: Water
Resin Type: Acrylic
Recommended Use: Interior or exterior
MPI Rating: N/A
Check with your local INSL-X DEALER for product availability.