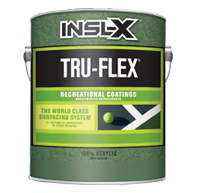 Tru-flex® Cushion Coat
TRC-060
Cushion Coat is a high performance coating consisting of encapsulated rubber particles and fillers, carefully blended with 100% acrylic emulsion, to create a shock absorbing type of color surface when used as part of the Tru-flex system. Cushion coat has a uniform texture and adds resilience to asphalt and concrete court surfaces.
Film enables normal moisture to pass through as vapor
Creates a shock absorbing type of color surface
Flexible and not affected by hot or cold
Use over painted or unpainted asphalt and concrete tennis court surfaces and other play areas
Available Sheens: N/A
Available Colors: Neutral
Cleanup: Water
Resin Type: Acrylic
Recommended Use: Interior or exterior
MPI Rating: N/A
Check with your local INSL-X DEALER for product availability.