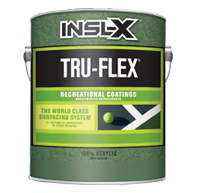 Tru-flex® Concrete Bond Coat
TRC-007
Concrete Bond Coat is formulated with acrylic polymers that are specially designed for sealing and binding concrete surfaces. Concrete Bond Coat acts as a bonding membrane that allows all Tru-flex®; Recreational Coating Systems to adhere tightly to bare masonry and concrete.
Acrylic bond coat for Tennis Courts
Adds years of life to the Court surface
Product is formulated for onsite dilution prior to use
Available Sheens: N/A
Available Colors: Clear
Cleanup: Soap and water
Resin Type: Acrylic
Recommended Use: Interior or exterior
MPI Rating: N/A
Check with your local INSL-X DEALER for product availability.