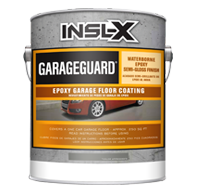 GarageGuard®
EGG-XXX
GarageGuard is a water-based, catalyzed epoxy that delivers superior chemical, abrasion, and impact resistance in a durable, semi-gloss coating. Can be used on garage floors, basement floors, and other concrete surfaces. GarageGuard is cross-linked for outstanding hardness and chemical resistance.
Waterborne 2-part epoxy
Durable semi-gloss finish
Will not lift existing coatings
Resists hot tire pick-up from cars
Recoat in 24 hours
Return to service: 72 hours for cool tires, 5-7 days for hot tires
Available Sheens: Semi-gloss
Available Colors: Showroom Gray, Desert Sand, Tint Base, Neutral Base
Cleanup: Water
Resin Type: Amine Adduct Epoxy
Recommended Use: Interior
MPI Rating: N/A
VOC Level: < 250 g/L
Check with your local INSL-X DEALER for product availability.