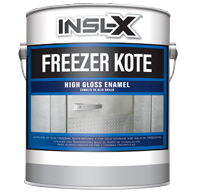 Freezer Kote
FK-1310
Freezer Kote is a high-gloss, rust inhibiting coating designed for application in sub-freezing temperatures. Freezer Kote is an alcohol-based formula that dries quickly and delivers a high-gloss finish. Available in white and safety yellow.
Designed for application in extremely low temperatures (-40 °F)
Eliminates cold storage shut down while painting
Alcohol-based formula dries quickly
High-gloss finish
Available Sheens: High gloss
Available Colors: White and safety yellow
Cleanup: Ethanol or denatured alcohol
Resin Type: Synthetic and natural resins
Recommended Use: Interior
MPI Rating: N/A
VOC Level: < 340 g/L
Check with your local INSL-X DEALER for product availability.