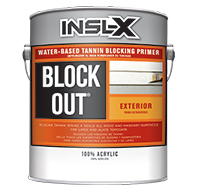 Block Out® Exterior Tannin Blocking Primer
TB-1100
Block Out Exterior Tannin Blocking Primer is designed for use as a multipurpose latex exterior whole-house primer. Block Out excels at priming exterior wood and is formulated for use on metal and masonry surfaces, siding or most exterior substrates. Its latex formula blocks tannin stains on all new and weathered wood surfaces and can be top-coated with latex or alkyd finish coats.
Exceptional tannin-blocking power
Formulated for exterior wood, metal & masonry
Can be used on new or weathered wood
Top-coat with latex or alkyd paints
Available Sheens: Primer
Available Colors: White
Cleanup: Soap and water
Resin Type: Acrylic
Recommended Use: Exterior
MPI Rating: 6
VOC Level: < 100 g/L
Check with your local INSL-X DEALER for product availability.