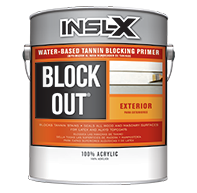 Block Out® Interior Primer
NO-4000
Block Out® Interior Primer is a modified synthetic primer-sealer carried in a special solvent that dries quickly and is effective over many different stains, including: water, tannin, smoke, rust, pencil, ink, nicotine, and coffee. Block Out primes, seals, and protects and can be used on bare or previously painted surfaces; interior drywall, plaster, wood, or masonry; and exterior masonry surfaces. Can be used as a spot primer for exterior wood shingles/composition siding.
Solvent-based sealer
Seals hard-to-cover stains
Quick-dry formula allows for same-day priming and topcoating
Top-coat with alkyd or latex paints of any sheen
Available Sheens: Primer
Available Colors: White
Cleanup: Mineral spirits
Resin Type: Alkyd/Styrene Acrylate
Recommended Use: Interior
MPI Rating: 45
VOC Level: < 350 g/L
Check with your local INSL-X DEALER for product availability.