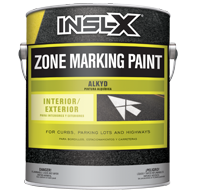 Alkyd Traffic Paint
TP-24XX,TP-34XX
Alkyd Zone Marking Paint is a fast-drying, exterior/interior zone-marking paint designed for use on concrete and asphalt surfaces. It resists abrasion, oils, grease, gasoline, and severe weather.
Alkyd zone marking paint
For exterior use
Designed for use on concrete or asphalt
Resists abrasion, oils, grease, gasoline & severe weather
Available Sheens: Flat
Available Colors: White (TP24-XX) and Yellow (TP-34XX)
Cleanup: Mineral spirits
Resin Type: Alkyd
Recommended Use: Interior or exterior
MPI Rating: N/A
VOC Level: < 350 g/L
Check with your local INSL-X DEALER for product availability.